Sweet valentine day message for your boyfriend
Hello Valentines ♥,
After sharing 15 Short and Sweet Valentines Day Messages we are back with another set of lovely valentine's day message you can share with your boyfriend or husband. Hope you will get love in return after sharing one of these valentines message with your partner.
♥
♥♥♥♥♥♥♥♥
♥
Best wishes on this wonderful day, sweetheart! I am really lucky to have you in my life. You are fun, crazy and smart, and being with you is definitely the happiest moment in my life.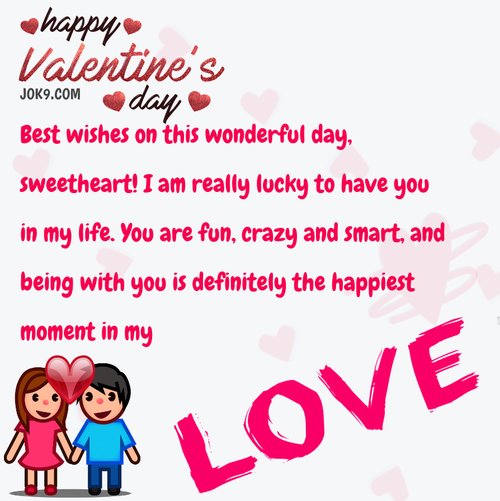 ♥
♥♥♥♥♥♥♥♥
♥
We all make mistakes in life. But it is never a mistake to love. Happy Valentine's Day, my love. I love you so much!
♥
♥♥♥♥♥♥♥♥
♥
The greatest thing you will ever learn in this world is to love and to be loved in return. Thank you honey for coming into my life. Best loving wishes on this wonderful day! I love you!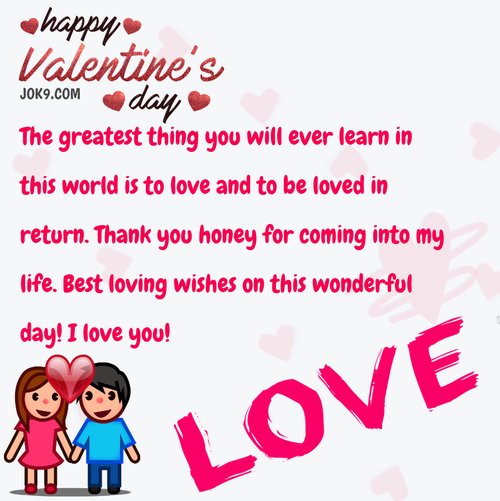 ♥
♥♥♥♥♥♥♥♥
♥
You know you're in love if you cannot bring yourself to fall asleep because the reality is finally better than what is in your dreams. Happy Valentine's Day!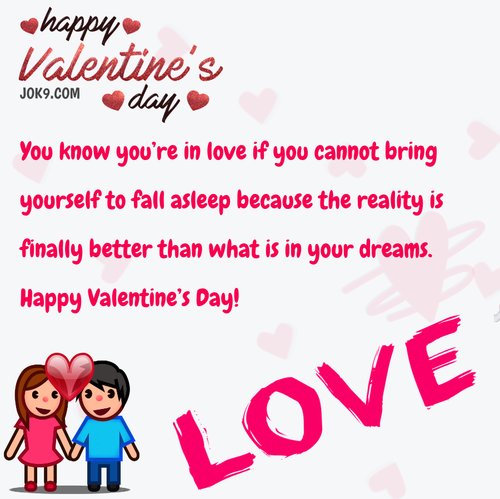 ♥
♥♥♥♥♥♥♥♥
♥
Have a wonderful day, honey! Anyone may catch your eye, but it will take someone special to catch your heart, I love you!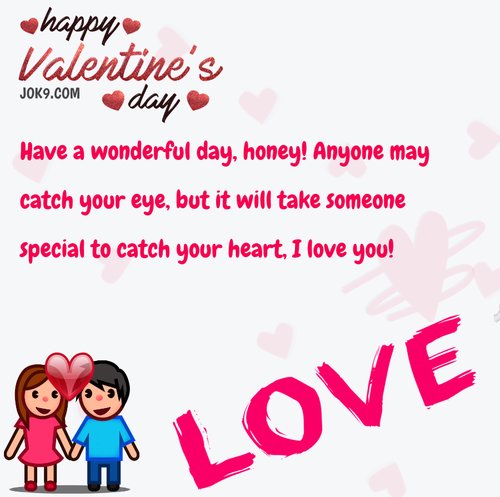 ♥
♥♥♥♥♥♥♥♥
♥
A hundred hearts will be too few to carry all of the love I have for you, I love you baby.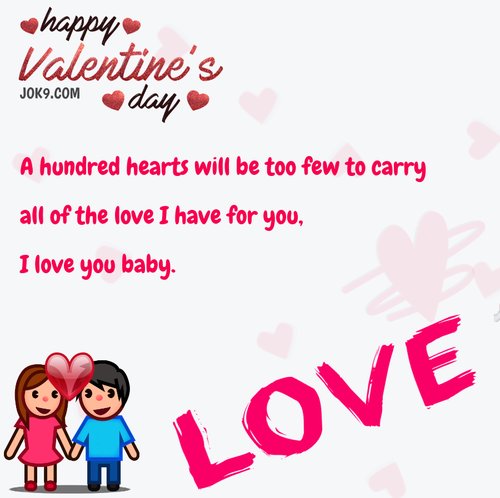 ♥
♥♥♥♥♥♥♥♥
♥
I know I have fallen in love so many times… yet, it is always with the same person, and that is you!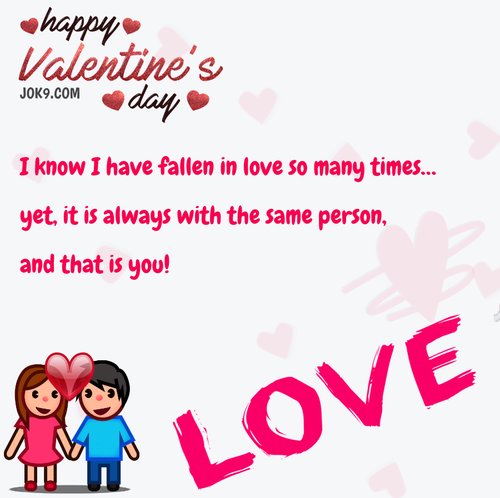 ♥
♥♥♥♥♥♥♥♥
♥
You have held my hand through all the tough times, my love. I know I could not make it without you. So thank you for that, have a beautiful day! I love you.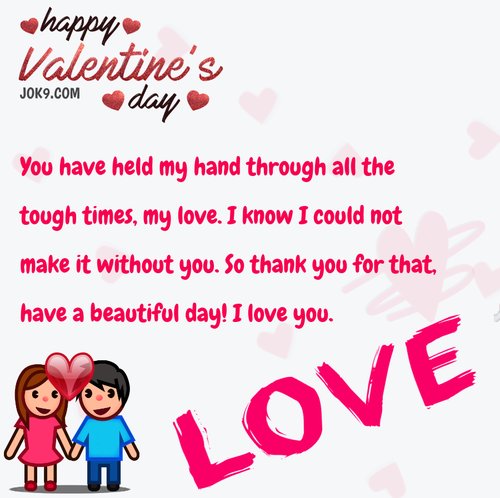 ♥
♥♥♥♥♥♥♥♥
♥
Your breath is the scent of a rose and your voice is the melody of angels, while your eyes are more precious than jewels. I love you, Happy Valentine's Day!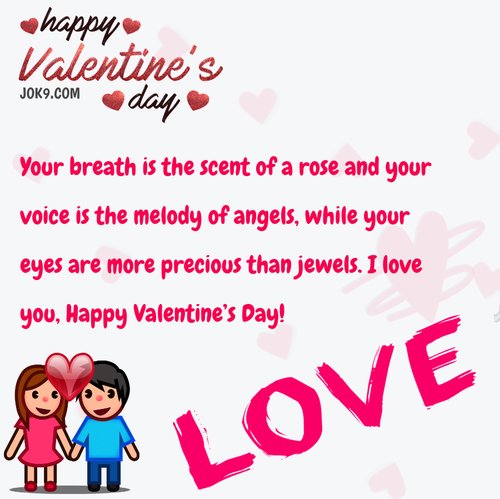 ♥
♥♥♥♥♥♥♥♥
♥
Loving you has always been a journey of discovery for me. I honestly don't know what true love is up until the time that you came to my life.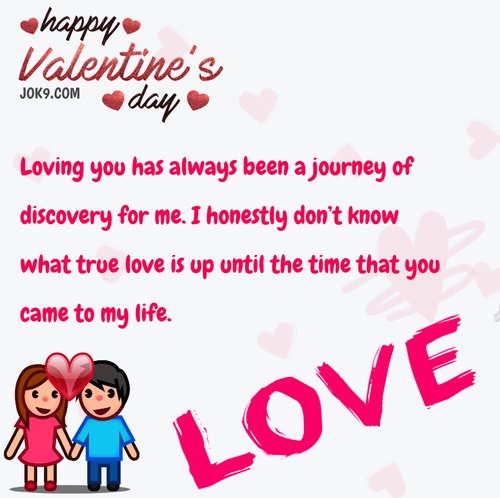 ♥
♥♥♥♥♥♥♥♥
♥
There is not a moment in my life that I will not think about you. I love you each and every day sweet heart and I especially love everything about you. Best wishes on this wonderful day!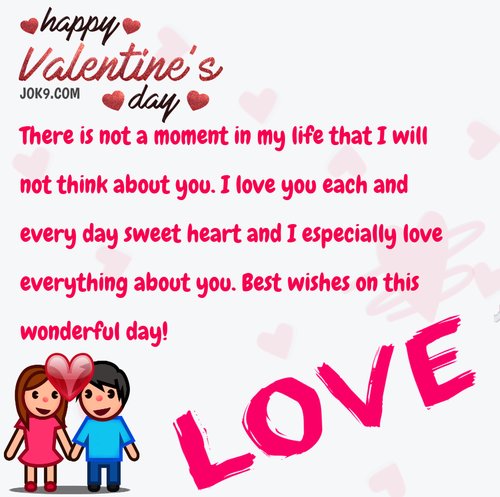 ♥
♥♥♥♥♥♥♥♥
♥
You are the song that my heart would always want to sing, I love you. Enjoy your Valentine's today!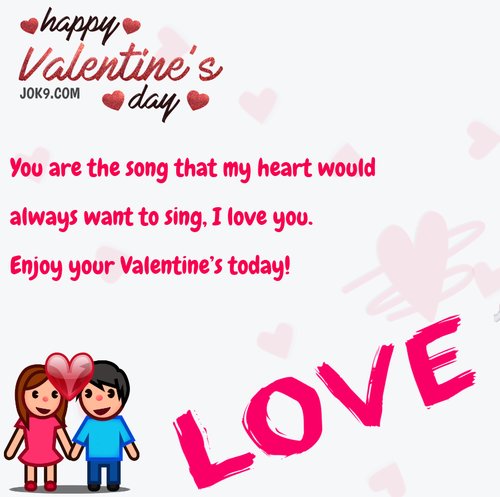 ♥
♥♥♥♥♥♥♥♥
♥
I cannot find the right words to describe love for it is something that we can never see or touch. Yet, it is the thing that I have felt the moment I saw you. Wishing you happiest day.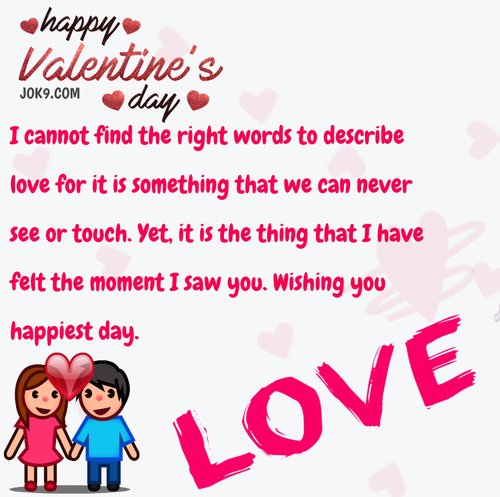 ♥
♥♥♥♥♥♥♥♥
♥
The most beautiful view on earth is the love that I share with you, I love you with all my heart!
[td_smart_list_end]
Keep watching this space for more valentine's day messages.