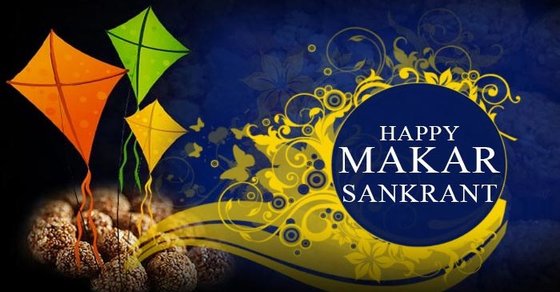 Makar Sankranti Greetings in Hindi and English
Meethe gud main mil gaya til,
Udi patang aur khil gaya dil,
Har pal sukh aur hardin shanti
aap ke liya Happy Makar Sankranti!!
मीठे गुड़ में मिल गया तील,
उडी पतंग और खिल गया दिल।
हर पल सुख और हरदिन शांति,
आप के लिए हैप्पी मकर शंक्रांति।।
With Great Devotion, Fervor And Gaiety, With Rays Of Joy And Hope, Wish You & Your Family,
A very very Happy Makar Sankranti..
मंदिर की घंटी, आरती की थाली।
नदी के किनारे, सूरज की लाली।।
जिंदगी में आये खुशियों की बहार।
मुबारक हो आपको संक्रांति त्यौहार।।
Mandir ki ghanti, Arti ki thali,
Nadi k kinare suraj ki lali,
Jindige me aye khushiyo ki bahar, Apko mubarak ho Sankranti ka tyohar!!
पल पल सुनहरे फूल खिले,
कभी ना हो काटों का सामना।
जिंदगी आपकी खुशियों से रहे भरी,
संक्रांति पर हमारी यही शुभकामनाये।।
Wishing you a very happy Makar Sankranti
May the Makar Sankranti fire burns all the moments of sadness and brings you warmth of joy and happiness and love…
Pal Pal Sunahre Fool Khile , Kabhi Na Ho Kanto Ka Samna , Jindagi Aapki Khushiyo Se Bhari Rahe , Sankranti Par Hamari Yahi Shubhkamna !!!
मकर संक्रांति के दिन आपके जीवन का अँधेरा छट जाये एवं ज्ञान और प्रकाश से आपका जीवन उज्जवल हो जाये।
संक्रांति पर हमारी यही शुभकामनाये।।
Makar Sannkrati ke din aapke jeevan ka andhera chhat jaye aevam gyan aur prakash se aapka jeevan ujjwal ho jaye! Happy Makar Sankranti
Please scroll below and click on Next Page to see more Makar Sankranti wishes!!